TRUMPF will release their first 2D TruLaser 3040 Fiber at SIMM 2019 with higher intelligence and efficiency
2019/01/30 15:00 | 阅读量:928 | 来自: SIMM
TRUMPF was founded in 1923 as a series of mechanical workshops, and has since developed into one of the world's leading companies for machine tools, laser technology, and electronics for industrial applications. The innovations play a role in virtually every sector of industry, from software that paves the way and influences different industries for smart factories to solutions for high-tech processes.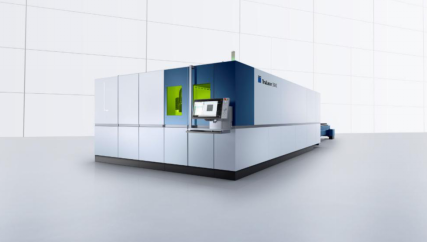 TruLaser 3040 fiber,the most innovative product in TRUMPF 2019, will be showcased at SIMM Exhibition 2019 with excellent performance of high intelligence, efficiency and great flexibility. It is a fiber 2D laser cutting tool adopts "Cube Design"theory to make it win the better human-computer performance. As for the internal quality, TruLaser 3040 fiber is embedded the new machine structure to boost the very strong cutting efficiency with TruDisk 10001 laser and storm cutting technology.
Meanwhile, TRUMPF focuses on developing multiple technologies to reduce the extra labor and time for machine utilization.
This kind of machine can match with all TRUMPF modules like automatic loading & unloading equipment, warehouse and some smart factory management software of TruTops Fab at the same time.
Besides, TRUMPF will showcase their laser welding equipment, 3D TruLaser Cell 5030 on their booth then. More solutions will be provided to help people boost manufacturers production efficiency and save extra labor cost and time.