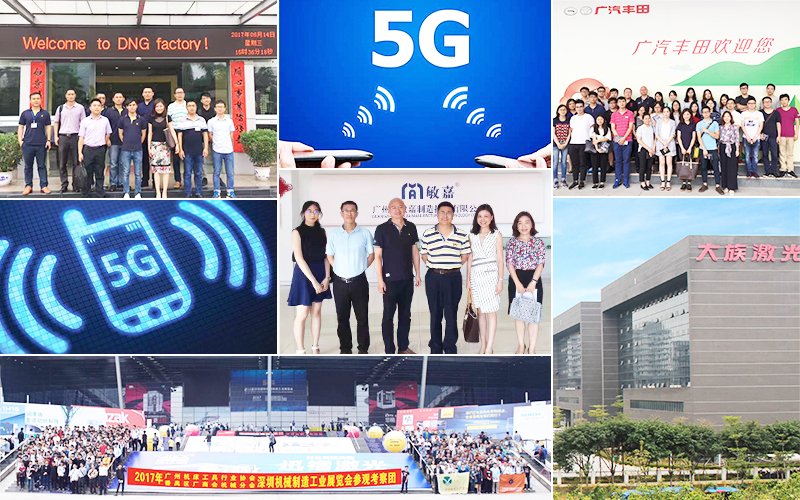 SIMM Exhibition committee members have visited a group of enterprises in the manufacturing industry and relevant associations from April to June to develop a deeper understanding of exhibitors and visitors and seeking for win-win cooperation.
? Guangzhou Machine Tool & Tool Builders' Association, Dongguan Machinery Association, and China Shenzhen Machinery Association have reached a consensus on the Pearl River Delta machine tool industry event on the topic of sharing South China market trends and promoting the development of machine tool industry in South China, and SIMM will be the event organizer.
? MTE's committee members visited the famous production management consulting enterprise Goodmate system and talked about how to improve the sheet metal manufacturing processes in the factory, as well as the market trends in South China. They are planning to set up a sheet metal solution area in the show SIMM 2018 and hope this new area can provide a richer user experience.
? As the leading representative of the laser cutting industry of China, Han's Laser showed us around their production base in Shenzhen. The future of sheet metal and laser equipment market are discussed, Han's Laser praised the procurement requirement of 3C and communication industry in South China, and they will focus on the automobile industry in the future.
? Base on the confidence and support for SIMM platform, some companies present their procurement needs and factory upgraded requirement to us. The garment accessories factory DNG BUTTONS needs to update their factory equipment immediately for reaching the order requirement and they hope SIMM can recommend some equipment suppliers for them.
? SIMM Exhibition had effective communication with Guangdong Logistics Profession Association, Shenzhen Association of Medical Devices, Shenzhen Mobile Communications Association, and Guangdong Die & Mould Industry Association. These associations are praised SIMM platform, and they hope their member companies communicate more with SIMM and China Shenzhen Machinery Association and seek for win-win cooperation.
? To further understand the visitors of SIMM exhibition in the automobile industry, SIMM had organized an activity to visit Guangqi Honda production base in July. The production base where 96% of the welding processes are automated, with a daily output of 1,800 cars, and will add a new production line in October of this year. There are many automobile supply chain enterprises gather around the production base, and the new production line will bring more business opportunities.
? The mobile phone industry which is focusing a lot of attention on the forthcoming 5G technology has always been the focus of manufacturing enterprises in South China. China mobile phone companies have reached 80% smart phone manufacturing market share all over the world and have the complete mobile phone supply chain, the quantity demand for graphite die, metal parts, graphite and glass process equipment will grow exponentially when the smart phone crafting material will be changed to glass or ceramic. The popularization of 4G smart phone had led the smart phone manufacturing industry and 4G cell phone tower related equipment develop rapidly. The popularization of 3D glass and 5G smart phones will be hot topics of discussion.